Cannabis is recreationally legal in 18 states and medically legal in 37 states. However, cannabis is classified as a Schedule I Drug, so it is federally illegal in the United States. All airspace is regulated by the federal government. As a federally illegal drug, it is illegal to fly with weed. But what if you have a medical card and need to use cannabis for medical purposes?
Let's break down what the Transportation Security Administration (TSA) has to say about flying with weed. The official TSA website states, "Marijuana and certain cannabis infused products, including some cannabidiol (CBD) oil, remain illegal under federal law except for products that contain no more than 0.3 percent THC on a dry weight basis or that are approved by FDA. TSA officers are required to report any suspected violations of law to local, state or federal authorities."
How Much Weed Can You Fly With?
In general, you cannot fly with cannabis. However, cannabis with less than 0.3% THC (hemp) on a dry weight basis is not federally illegal. If you have cannabis that meets those requirements, then you could fly with weed. The same goes for flying with CBD products.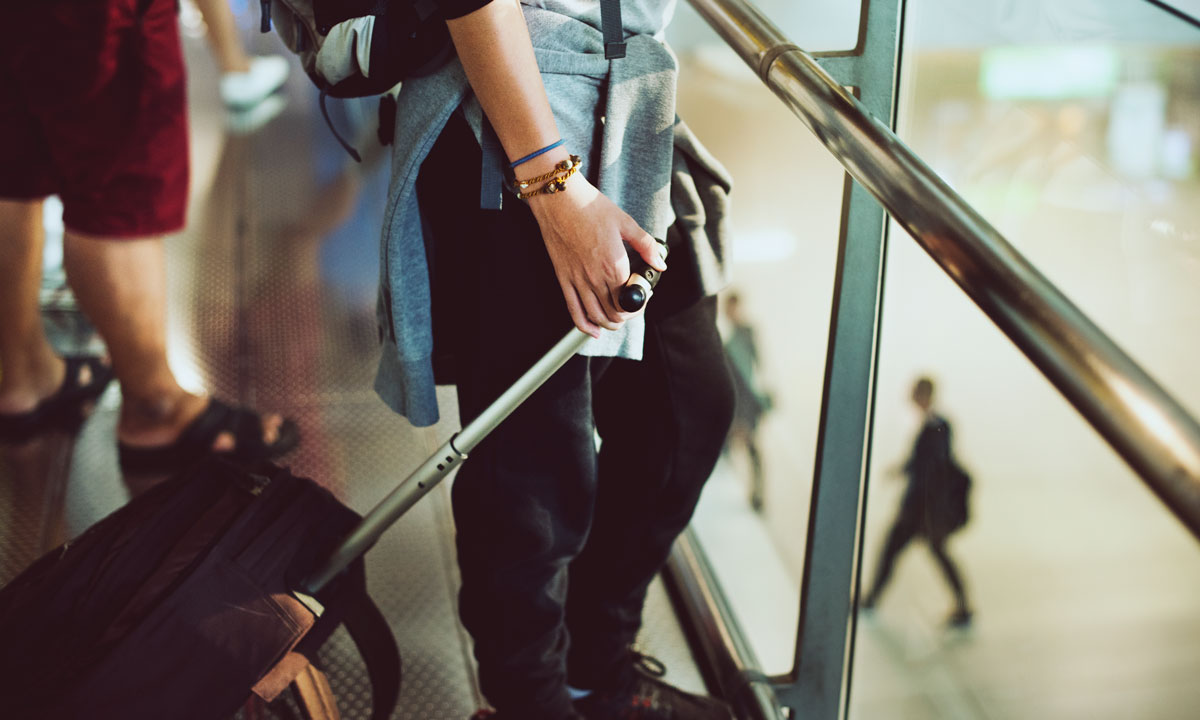 You can fly with CBD products derived from hemp plants that contained less than 0.3% THC, as long as the products comply with other regulations. What about flying with weed that has more than 0.3% THC? That would be federally illegal, so you cannot fly with weed that has more than 0.3% THC.
Can You Fly with Weed in Legal States?
Can you fly with weed in a state with legal recreational cannabis? There are a couple of airports where you might think you are allowed to fly with weed, like Los Angeles International Airport (LAX). In January 2018 Los Angeles International Airport (LAX) issued a statement saying, "The Los Angeles Airport Police Department will allow passengers to travel through LAX with up to 28.5 grams of marijuana and 8 grams of concentrated marijuana. However, airport guests should be aware that Transportation Security Administration (TSA) screening stations are under federal jurisdiction.
Also, passengers should be aware that marijuana laws vary state by state and they are encouraged to check the laws of the states in which they plan to travel." What are you supposed to take from these statements? It appears that in some areas with legal recreational marijuana, local law enforcement may choose not to enforce the law. That said, it is a crime to fly with cannabis and we advise our readers to follow the law.
Does TSA Search for Weed?
Does TSA search for weed when you are going through security? On April 20, 2019 (4/20!) TSA published a statement on its Instagram account: "Are we cool? We like to think we're cool. We want you to have a pleasant experience at the airport and arrive safely at your destination. But getting caught while trying to fly with marijuana or cannabis-infused products can really harsh your mellow.
RELATED: TSA And Cannabis: What You Need To Know
Let us be blunt: TSA officers DO NOT search for marijuana or other illegal drugs. Our screening procedures are focused on security and detecting potential threats. But in the event a substance appears to be marijuana or a cannabis infused product, we're required by federal law to notify law enforcement. This includes items that are used for medicinal purposes." That is a definitive answer, but are there any exceptions? What if you use cannabis to prevent epileptic seizures? Are their allowances for certain medical conditions?
Can You Fly with Medical Marijuana?
TSA's stance on flying with medical marijuana is somewhat convoluted. TSA states you can fly with medical marijuana in checked bags and carry-on bags when "special instructions" are followed. While there are no "special instructions" on the TSA Website, there is a "Special Procedures" section for medications.
Additionally, TSA states, "The final decision rests with the TSA officer on whether an item is allowed through the checkpoint." So, can you take marijuana on a plane? Can you fly with medical marijuana? No. You cannot fly with medical marijuana, even if you have a medical need for cannabis. It is federally illegal to bring marijuana products through TSA security, into federal airspace, or across state lines.
Can You Bring Edibles on the Plane?
The answer to the question "Can you bring edibles on the plane?" is "Yes" if your edibles contain less than 0.3% THC and comply with TSA's food regulations. But if your edibles contain more than 0.3%, you cannot bring them on a plane as it would break federal law.
RELATED: What Happens If You Try To Sneak Edibles Onto A Plane?
In addition, if you're flying between states, you would be transporting edibles across state lines, which is illegal at both the federal and state level.
Flying with Hash Oil Pen
Hash oil is a concentrate that contains up to 90% THC. The THC level in hash oil is always more than 0.3% THC. As a result, flying with a hash oil pen is illegal. We hope this article answered the question, "can you fly with medical marijuana?"
Get Started on Your Cannabis Wellness Journey
Have you started your cannabis wellness journey? Jointly is a new cannabis wellness app that helps you discover purposeful cannabis consumption so you can achieve your wellness goals with cannabis and CBD. On the Jointly app, you can find new cannabis products, rate products based on how well they helped you achieve your goals, and track and optimize 15 factors that can impact your cannabis experience. These 15 factors include your dose, the environment in which you consume cannabis, who you are with when you ingest, how hydrated you are, the quality of your diet, how much sleep you got last night, and more. Download the Jointly app on the App Store or the Google Play Store to get started on your cannabis wellness journey.